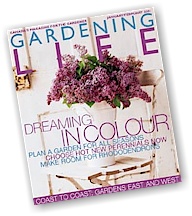 Back in 1977 when we bought the cottage on the wild hillside, we never dreamed that we would be welcoming visitors from around the globe to our little corner of the world. Visitors who were already coming to see Steven's art were also amazed by the artist's garden. Encouraged by Provincial tourism officials and a promise to include Crocker Hill in the official guide to New Brunswick, we opened our garden to the public in 1987.
For eleven years until it closed in 1997, prominent travel guides including Frommers, Fodors and National Geographic guide to Canada featured Crocker Hill as a tourism destination.
The following is a list of publications in which we have been featured. There are numerous other stories done locally as well as internationally that are not listed below. Additionally, Steven's wide-ranging skill from stone carving to garden design have been profiled nationally on CBC-TV's Midday and Discovery Channel's Harrowsmith Country Life.
Victoria Magazine, July / August 2010 "A Historical Hideaway: St. Andrews by-the-Sea

Salon, Telegraph-Journal, launch issue January 27, 2007 "The Secret World of Steven Smith" (View Page 1, Page 2)


Gardening Life, Canada's magazine for the gardener. Jan/Feb 2001 "

In the Pink

"


Home Business Report, Summer 1999 "An Eye for Beauty and a Nose for Business"


Gardening Life Magazine, Spring 1999 "Pick of the Crop, an insider's guide to Canada's best garden shops"


The New Brunswick Reader, June 13, 1998 "Down East of Eden", the cover story


Victoria Magazine, April, 1998 "A Peaceable Kingdom For Birds"


The Ottawa Citizen, April 11, 1998, "New Brunswick gardens lure feathered guests"

CBC-TV Midday Program June 16, 1997

Harrowsmith Country Life television program Jan. 17, 1997

Harrowsmith Country Life Fall Special Television Special, Oct. 8, 1996


Canadian Gardening Magazine June/July 1996 "Birds in Paradise"


The Globe and Mail, Great Garden series, "Artist's Slope Can Grow on You" July 15, 1995


Reader's Digest Back Roads and Getaway Places of Canada, 1994, "A Serene Garden by the St. Croix"


David Tarrent's Canadian Gardens, Whitecap Books, Nov. 1994


The New Brunswick Reader, Nov. 26, 1994, "The Fertile Ground of Crocker Hill"


Canadian Living Magazine, Jan. 1993, "The Secrets of Gardening"

Business of the Year, 1991 Awarded by St. Stephen Chamber of Commerce "in recognition of outstanding performance as a small business including major international publicity leading to increased clientele and contribuiting to an enhanced image for the community as a whole"


Food & Wine Magazine, June, 1991, "A Canadian Coastal Getaway"

Country Living Magazine, May, 1991 "Herbalists' Retreat"

Canadian Gardening Magazine, Feb/Mar 1991, "Hillside Dream", cover story


The Atlantic Advocate, April 1990, "Planning A Paradise"

On The Road Again, CBC-TV Jan. 1990

The Atlantic Advocate, Dec. 1989, "Christmas At Crocker Hill"


Telegraph Journal, Aug. 8, 1987 "St. Stephen's Crocker Hill Gardens Is No Ordinary Spot" by travel writer, Colleen Thompson "It's more like a nature canvas, a new path along which artist, Steven Smith has chosen to travel."

There have been numerous other newspaper articles as well as travel guides including Frommers, Fodors and The National Geographic Guide to Canada.